Horizon: Zero pre-Dawn review Zobra.ru
So ended the exhibition of video games
E3 2015
, it left only positive emotions, and all the conferences it was great, though someone more pleased with us than the others
, and someone watched the Show PC Gaming... and why? But we'll talk now about the conference SONI, which was announced a new exclusive for the PS4 -
Horizon: Zero Dawn
, and that means:
good graphics, no lag and early access
for the game in such a setting, just under it if it came out on PC.
Imagine, humanity has reached unprecedented heights, had built himself a town, with houses above the mountains did the robots and in General, live Yes rejoice. And to know im so bored that a large part decided to disappear, where, why, is not clear. Their cities are forever extinguished and no longer lit the light in the Windows, in one word, "Darkness", the darkness around one. But the robots turned out to be slightly smarter than their creators and decided nowhere not disappear, but remain on this earth. Only a little unusual for us images, i.e. not in the form of machines that make other machines, robots can help us to clean the house and even the most ordinary, with two legs, hands and one head.
They decided to become animals but not simple and not completely made of iron and wires present in them and the meat, blood, guts. From gempleyny video it can be seen when the main character goes through one piece of iron, and from there gushing blood, mixed with sparks, though perhaps it was some kind of liquid, like oil.
At this point we know that we will play for the red-haired female named Alla, who lives in the camp. In the first, founded by unknown people after the disappearance of almost all mankind. The remaining people decided to start over, go back to a primitive, taking sensitive technology with a past life. One of these stuck last gifts was a bow with a crossbow and then our red-haired lady knows how to use it.
Not long Ty, all showed gameplay, where, in fact, involves these devices. In it you can see that in Luke, in addition to normal arrows, there are explosive and electric, as there is a near-weapons - spear, a little too refined, without a stone on the end, and with a very sharp tip, pierces iron. Hello in this video I decided to get it, probably need a green liquid with a robot deer, and hunting at the same time. And all anything, but came to raging robot a little bit bigger, the size of the t Rex, and it looks about the same, only covered with iron in the style of Killzone: Shadow Fall. This is not surprising game developers Guerrilla Games, they developed Killzone.
And here begins the battle, in the course are all the methods and arrows girls, she even managed to shred his back with an explosive arrow, and there was that gun that helped her, by the way is not the only robot with tapname details. For her, then, went the crossbow and the beast fell, the applause.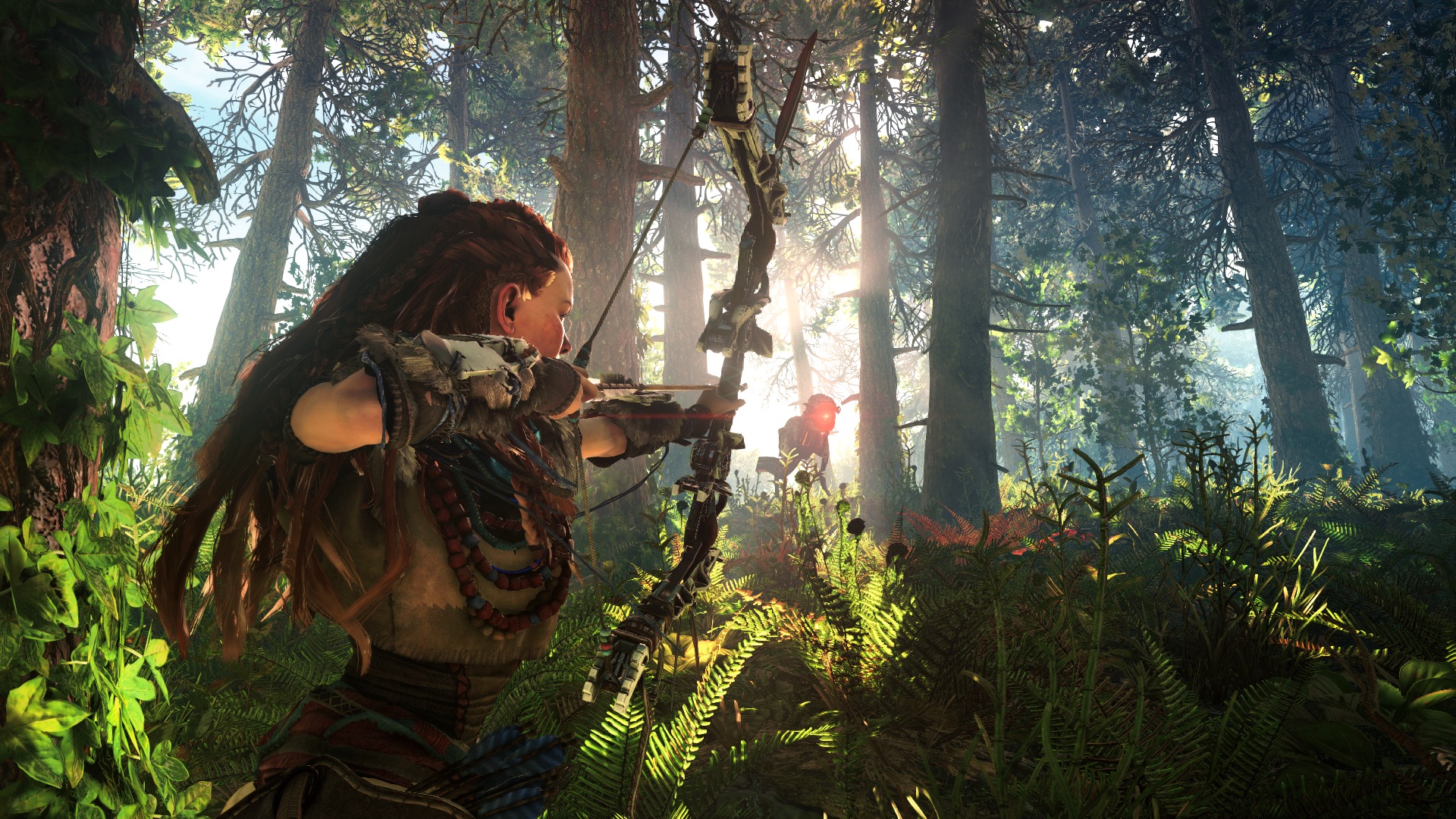 During this hunt, it was possible to notice the presence of stealth, interesting NPC behaviors and destruction of the world. Also Hello already reached level 12, and perhaps on this so just coped with the giant Tirex. We also have from zero to pump, will have access to various perks, for example the slowing down of time, without it hard to get into the enemy's weak spots. And will not go away gathering with crafting, in these games it is a vital thing.
And as I said the art Studio Director Jan-Bart van Beek - "
You will have to learn everything by trial and error
". That is, no one will be for particles to gather the plot together, you will need to find answers to our questions. No one will teach us the hunt and what you hunt, you will need to study animal behaviour and to look for the right.
The game is not claimed to be "
hardcore
", but she is trying to lure the player that he became interested and remained in it for a long time. Though the plot is trite, something happened, everything disappeared, and the remnants trying to survive, but in this game it is really interesting how something so twisted that I want to know what happened to the people that the robots running around, as found in this form, surely they are all rigged. And don't forget the addictive gameplay, it also plays little role. All these aspects mean, the game is sure worth the wait,
if you have a PS4
, sorry that it will be released only in 2016.
And I still hope for multiplayer, coop here are not likely to get as and maybe multiplayer.

Top